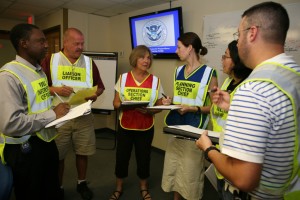 There are a number of careers in the medical and healthcare field that center around ensuring safety and emergency preparedness, and one of these is that of hospital emergency preparedness administrator, according to the American College of Healthcare Executives. This professional directs the response to disasters and oversees crisis management in hospitals and other medical facilities. This job holds a great deal of responsibility, as any kind of natural disaster or emergency situation could occur such as earthquake, flood, hazardous material spill or even a hostage situation. Emergency management directors such as this have wide array of duties.
Typical Duties
Hospital emergency preparedness administrators are always learning and keeping up on new developments within their industry. Attending workshops, conferences and other types of meetings in order to learn new information and network with colleagues is a big part of the job. In order to understand their needs and what they are currently capable of in case of an emergency, administrators often meet with local government, school and other institution officials for collaboration and updates.
It is also a duty of these professionals to design and implement emergency preparedness courses for their staff and community members in order to disseminate information on proper response during various types of situations. People in this field are very knowledgeable and must always maintain informed of federal, state and local emergency related regulations. In addition, it is their job to gather the information needed to write the emergency preparedness plans for their facility and to be able to carry out those plans. This involves ordering evacuations and opening shelters, as well as ensuring that special needs programs are carried out.
Much communication with outside agency officials, industry colleagues, hospital staff and the community is required. Collaboration with other officials regarding post-disaster assessment is necessary. As is the development of instructional materials for presenting information to public groups on disaster readiness. Conducting surveys in order to become informed on emergency needs that should be addressed and to best inform planning is yet another task of this job.
Education and Training
There are a number of routes you could take toward becoming a director of emergency preparedness. Usually, formal schooling at the bachelor's level at minimum is required. Programs that may prepare you for this career include emergency management, Homeland Security and protective services operations, among others. The title of the program will depend on the college or university you choose.
Skills Needed
While there is no magic formula for success in any job, there are certain skills that will benefit you if you choose to pursue a career in hospital emergency preparedness administration. You should certainly be very people-oriented, with a desire to help. Critical thinking and problem solving skills are of utmost importance in a job like this, as you will be responsible for thinking under pressure in order to ensure safety. Communication and coordination skills are needed to allow you to speak to and be understood by various groups of people from diverse backgrounds. Proficiency in writing will help you to develop plans that are easily understood and to communicate with key stakeholders near and far.
Related Resource: FEMA Corps
This is an overview of the kinds of things to expect in this position. A hospital emergency prepared administrator holds a great deal of responsibility and wears many hats.