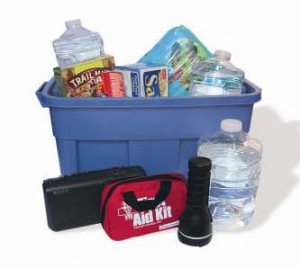 Every day, news reports of disasters seem to become more common, and the most proactive response to these types of heart-wrenching reports is one of emergency preparedness. Emergency preparedness is a state of mind and a way of life, requiring the ability to remain calm in times of trouble. Whether the disaster is natural–hurricanes, fires, or tornadoes, for example–or terroristic in nature, having a disaster plan in place before catastrophe strikes ensures the best possible outcome for the health and safety of any community.
Emergency Preparedness: The Power of Preparation
Emergency preparedness is primarily an exercise in forethought. Below are some of the emergency situations for which people often prepare:
Severe Weather Conditions
Perhaps the most dangerous aspect of emergency weather situations is that the local power grid is almost always damaged. This has a negative effect on all mitigation efforts because emergency management forces will experience difficulty coordinating a timely response. Because of this, it is important to prepare for severe weather by maintaining an alternative means of communication and storing sufficient food and water supplies to remain healthy until a rescue is implemented.
Disease Outbreaks
Mass epidemics have also attracted a great deal of attention. Bioterrorism and new flu variations have been proposed as potential sources of large-scale disease outbreaks. Because it is often impossible to predict when and where an outbreak will occur, an extra measure of preparation is necessary. A well-stocked supply of first aid items, including breathing masks and antibiotics, can be instrumental in preserving health during an outbreak.
Emergency Preparedness Through Emergency Management Degrees
Emergency Management Degrees have become quite popular with young, career-minded people with a passion for saving lives. A degree in emergency management ensures that an individual will be able to display the competency and up-to-date knowledge required to pursue real-world experience. Experienced professionals can find employment in nearly any industry because every company needs an emergency preparedness plan to ensure safety. Typical courses can include topics like "Mental Health Consequences of Catastrophic Events" and "Planning for the Public Health Worker." These courses are vital for emergency management professionals because they must deal with mental and emotional public health as well as physical safety. Also, they must be able to commit themselves to the stewardship of the individual health workers who make up the safety response units in a particular region.
Online degree programs are one of the most popular options for people who wish to pursue a career in emergency management. The following are a few examples:
Millersville University of Pennsylvania – MS in Emergency Management: This program was created as a response to a request from FEMA to produce more well-educated, trained emergency management professionals.
Thomas Edison State College – BS in Homeland Security and Emergency Management: This online course is geared toward adults seeking further education or a career change.
Boston University School of Medicine – MS in Healthcare Emergency Management: With a focus on public health in crisis situations, this online degree program is offered by one of the premier medical schools in the country.
Emergency Preparedness Resources
The elements of emergency preparedness include proper equipment, training and thorough planning. However, the most important asset is knowledge. Below are resources for further education:
Center for Disease Control (CDC) – http://www.bt.cdc.gov/
Federal Emergency Management Agency (FEMA) – www.ready.gov
National Preparedness Directorate – training.fema.gov
Disasters often cannot be avoided, so having a comprehensive Emergency Preparedness plan in place before they occur is the best defense against possible catastrophe.