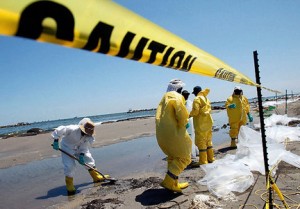 For strategically minded, leadership-oriented individuals ready to rise to the challenge no matter what the situation, emergency management careers can provide dynamic employment in an in-demand field. Emergency management professionals plan for and respond to disasters and emergencies ranging from tornadoes and earthquakes to train wrecks and oil spills. Whether employed by government agencies, private sector companies or community relief organizations, these professionals work to protect life and property and to ensure the most complete disaster recovery possible. Individuals motivated to pursue Emergency Management Careers can get the training and education they need through a specialized emergency management degree program.
Interested degree candidates should look for an accredited program that provides challenging coursework and opportunities for internships, elective concentrations or other features that can help new graduates stand apart from other job candidates. Before committing to a degree program, prospective students should consider factors such as school ranking and reputation, faculty experience, curricular strengths and alumni placement success.
A growing number of schools now offer specialized emergency management curricula, and strong programs are available at the associate, bachelor's and master's degree levels. One notable two-year program is the homeland security emergency management degree track offered by Pierce College, a community college in Woodland Hills, Washington. The program's curriculum encompasses five credits of work-based experience to prepare students for real-world emergency management. At the baccalaureate level, Loyola University's B.S. in emergency management stands out with its evening and weekend classes and part-time enrollment option, making it an ideal choice for today's adult students interested in embarking upon Emergency Management Careers. Current emergency management professionals ready to take their education to the master's level may be interested in Georgetown University's executive master of emergency and disaster management degree track, a one-year cohort program emphasizing strategic leadership skills.
Popular Emergency Management Careers
A number of diverse and wide-ranging industries and sectors have a need for qualified emergency management professionals, and Emergency Management Careers are available in a variety of settings. State and local governments are a leading employer of emergency management professionals, and national government agencies such as the Federal Emergency Management Agency may also hire new graduates. The highest-paying industry for emergency management workers is the oil and gas extraction industry, in which emergency management specialists earn a median annual salary of $100,520, according to the Bureau of Labor Statistics. Other possible areas of employment include the electric and utilities industry, community food and housing programs and disaster relief service providers such as the American Red Cross.
Emergency management career salary ranges depend on a variety of factors, including location. The U.S. Bureau of Labor Statistics reports a high concentration of emergency management jobs in Midwestern states such as North Dakota, South Dakota, Nebraska and Wyoming, where frequent severe weather incidents and the prevalence of oil and gas production keep emergency management skills in high demand. Virgina and Maryland are particularly high-paying destinations for emergency management professionals, due to the presence of numerous government and military agencies in the area.
Job titles and corresponding responsibilities for emergency management professionals will vary in accordance with academic and career experience. Recent graduates or others just entering the field may find employment as an emergency management specialist. Individuals with this job title are responsible for developing, implementing and documenting disaster response training and drills, regulatory compliance and public safety education. In 2011, emergency management specialists earned a median annual salary of $52,590, according to the Bureau of Labor Statistics. An example of a higher-level position is that of an emergency response coordinator or emergency management director. The duties of this executive-level position include the design, coordination and supervision of the employing company or institute's emergency response plan and policies. A typical salary range for this job title is $30,357 to $93,564, as reported by Payscale.com.
Individuals motivated to pursue one of these rewarding Emergency Management Careers should take advantage of every opportunity to gain related experience or training in the industries or sectors most of interest to them, whether through internships, volunteer work, entry-level or part-time employment or elective academic coursework. On-the-job training and continuing education courses can further augment opportunities for higher-level emergency management careers.