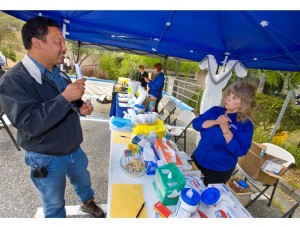 For problem-solving individuals ready and able to rise to the occasion no matter how adverse the circumstances, an associate's degree in emergency management can open the doors to careers in a high-demand field. Emergency management professionals work to prepare for and respond to disasters both natural and man-made, always with the aim of mitigating the potential damage and danger to their communities. These professionals may work for government agencies, community relief programs or private sector employers. The United States Department of Labor predicts strong growth in emergency management employment over the coming years. An emergency management associate's degree prepares graduates for entry-level employment in the field, and can also act as a stepping stone on the path to a baccalaureate or master's degree. When combined with on-the-job training and experience, an associate's degree may also be sufficient qualification for some higher-level emergency management positions.
How to Find the Top Associate's Degree in Emergency Management Programs
Students seeking the best associate's degree in emergency management programs should consider factors such as faculty experience, academic rigor and the depth and breadth of the program's curriculum. Programs with internship opportunities or other applied learning experiences are of particular value to students and graduates first entering the emergency management field.
Associate level emergency management degrees are available through community colleges, vocational schools and online-learning institutions. One notable program is the nationally recognized emergency management degree track offered by Frederick Community College, located in Frederick, Maryland. Just 15 miles away from FEMA's Emergency Management Institute, the community college has an independent study contract with the institute that enables degree candidates to earn college credit for professional experience. For students interested in distance-based study, the A.A.S. degree in emergency planning and management offered by Red Rocks Community College is a worthwhile consideration. Recognized by the Federal Emergency Management Agency as one of the first programs of its kind, RRCC's emergency management program offers two separate curricula, one for current emergency management workers seeking greater career advancement and one for new entrants into the field. RRCC is located in Colorado, but students nationwide can enroll in the school's online emergency management program. The best online associate's degree in emergency management programs will be fully accredited and will combine challenging classes with flexible scheduling.
Careers and Salaries for Individuals with an Associate's Degree in Emergency Management
Associate's degree in emergency management careers can be found in state and local government agencies, in institutions such as colleges and healthcare facilities, and in private sector industries such as oil and gas, engineering services or electric and other energy utilities. Other potential employers include the American Red Cross and community food relief and housing programs. Possible job titles include emergency management specialist and emergency services specialist.
Emergency management specialists work to improve emergency preparedness in their communities, focusing on emergency response training, emergency resource management and public outreach. Their responsibilities include emergency drills and exercises, documentation and adherence to external and internal regulations. According to the U.S. Bureau of Labor Statistics, the median annual salary for emergency management specialists was $52,590 as of 2011.
Emergency services specialists coordinate and manage the delivery of emergency services to persons affected by disaster. Their duties include recruiting and training staff or volunteers, monitoring local conditions, supporting efficient and expedient service delivery and overseeing follow-up casework. Simplyhired.com reports that as of 2012, the average salary for an emergency services specialist was $52,000.
Associate's degree in emergency management salaries can vary widely depending on factors such as location, industry, company size and level of experience. The more career-related experience an emergency management professional possesses, the greater career and salary advancement he or she can expect. On-the-job training and continuing education classes can help to augment the earning potential and job opportunities available to individuals with an associate's degree in emergency management.