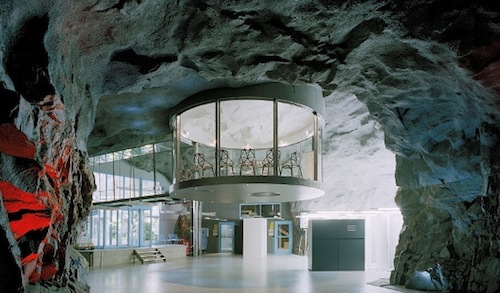 With the Cold War long since over and world wars hopefully a thing of the past, many military bunkers and emergency bomb shelters have been re-purposed and redesigned to serve new, more hospitable functions. These structures are poignant historic reminders of past conflicts and stand as testament to times of fear and paranoia. They also offer a fascinating glimpse into the ways in which governments around the world reacted to tense and potentially perilous situations. These cold, austere structures were once dark reminders of war, but now they are being given a new lease of life as clubs, hotels, private apartments and more. Here's a look at 10 incredible re-purposed emergency bunkers from around the world.
10. Bunker-42 (Entertainment Facility) – Moscow, Russia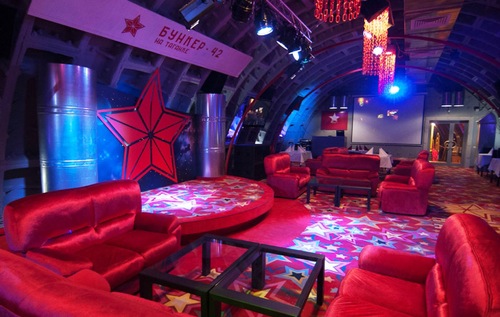 Bunker-42 was built in Moscow, Russia during the Cold War. Completed in 1956, the facility spans a staggering 75,000 square feet and lies 213 feet underground. The bunker was in operation for around 30 years, with a multitude of staff handling tasks like managing telephone and telegraph communications and alerts. The complex had air regeneration and water supply systems together with food and fuel supplies, and it could sustain as many as 3,000 people for three months in the event of a nuclear attack.
Fortunately, the threat of nuclear war eventually passed. And in 2006, Bunker-42 was bought privately and re-purposed as a Cold War museum, restaurant, karaoke bar, conference center and wedding venue. Children can also enjoy special programs like the fun-sounding "Zombie-Apocalypse" game.
9. Null Stern Hotel – Teufen, Switzerland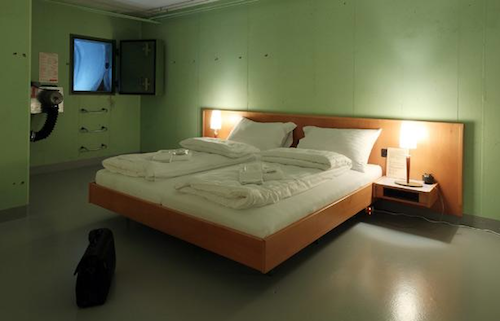 The Null Stern Hotel franchise prides itself on the idea that "the only star is you." Twin brothers and artists Frank and Patrik Riklin worked with hospitality expert Daniel Charbonnier to convert a 1980s nuclear fallout shelter in Teufen, Switzerland into an innovative concept hotel.
The hotel opened in 2009 and didn't provide any luxury amenities such as flat-screen TVs. "Many of our guests told us they would normally stay in a three- or four-star hotel," Charbonnier says. "We managed to attract customers who wanted a good quality of service but who had recently tightened their budgets." For this reason, the bedrooms were sparse and bathrooms were shared, although guests were treated to a butler service throughout their stay. The concept proved so successful that the franchise has turned its attention to more urban areas, while the original site was converted into a museum in 2010.
8. Bunker Wohnen (Apartments) – Bremen, Germany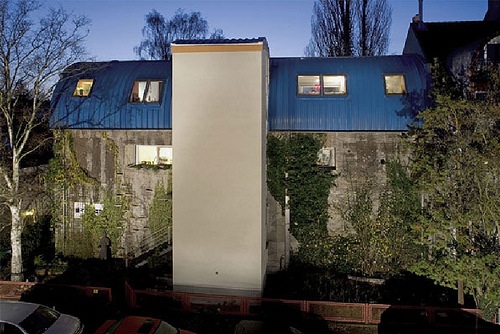 Located in Bremen, Germany, this World War II-era bunker was a reminder of a more troubled past, when people were forced to take shelter during Allied bombing raids. Gray, except for the lichen growing on its walls, the facility had become obsolete and arguably something of an eyesore. Some locals had no desire to venture inside – especially those who used the fortification as children.
However, all this changed when architects Rainer Mielke and Klaus Freudenberg decided to transform the building into a set of modern apartments. Initially, the project ran into difficulties. Authorities wouldn't allow the structure to be re-purposed due to a "civil protection commitment," which meant that officials wanted the building to be free to use if emergencies arose. Eventually, though, the authorities granted permission, allowing the renovations to take place. Interestingly, Mielke has been converting bunkers for more than a decade, and from the sounds of it, he has a lot of material to work with: as of 2009, there were still around 2,000 bunkers in Germany.
7. The Shelter (Nightclub) – Shanghai, China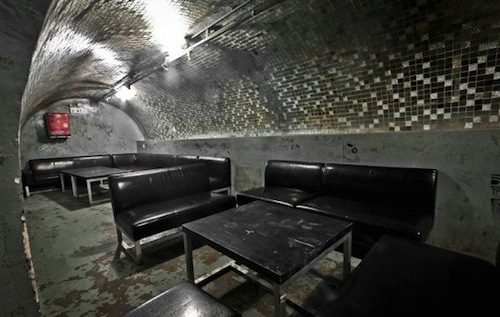 During the 1960s and '70s, tensions were high between China and the Soviet Union. Due to the threat of potential aerial attacks, hundreds of thousands of air-raid shelters were constructed throughout China. Indeed, according to local government officials, there are around 2,000 in the Xuhui district of Shanghai alone.
Although some bomb shelter locations are still kept secret, others have been transformed – repurposed to become everything from wine cellars to clothing stores and nightclubs. The Shelter, pictured above, looks dark and dingy, but even so, it's become a big hit with clubbers who are looking for something different. The venue focuses on the music, sometimes even turning out the lights and killing Wi-Fi connections for "pitch-dark" dance parties.
6. The Greenbrier (Tourist Attraction) – White Sulphur Springs, USA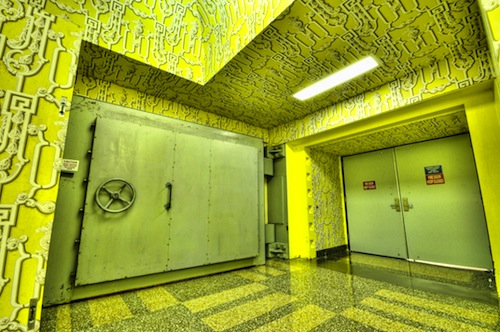 The Greenbrier Resort in West Virginia has been around since 1858. But in 1958, owners the CSX Corporation approved a secret government plan to build a new annex, the West Virginia Wing, and construct a nuclear fallout shelter covering over 100,000 square feet beneath it. The Cold War was well underway, and the US Government was building top-secret emergency shelters all over the country. This one, officially named Project Greek Island, was completed in 1962 and was designed to house Congress in the event of an emergency. It boasted enough room for 535 senators and representatives as well as their aides: 1,100 people in total. The facility has concrete walls as much as five feet thick, huge nuclear blast doors, and a decontamination area with high-pressure showers.
In 1992, the site's whereabouts was publicized by The Washington Post, and the bunker was then decommissioned by the US government. A few years later, it was added to the resort's list of attractions, and tours started to be offered. The complex now includes five meeting rooms for business gatherings with a difference, and guests can also enjoy themed events.
5. Silo Home (Luxury Residence) – Saranac, USA
"Silo Home" is a luxury residence built within the Adirondack State Park in Saranac, New York. Above ground, the building looks like an inconspicuous if picturesque holiday home, but beneath the surface is a labyrinth of reinforced Cold War-era bunkers ready for nuclear Armageddon. How so? Because this was formerly a launch facility whose underground silo housed an Atlas-F intercontinental ballistic missile.
Cousins Bruce Francisco and Gregory Gibbons spent about two decades repurposing the space. When Gibbons acquired the property in 1991, it had been submerged in water for some 30 years. Today, in contrast, it is the height of luxury, with three bedroom suites (two below the ground), an entertainment center, marble bathrooms with Jacuzzis, and a pair of 2,000-lb blast doors. The former launch control center itself now accommodates much of the living space.
4. Bunker Hamburger Joint – Kavajë, Albania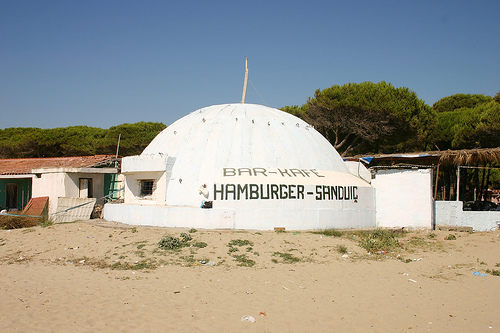 There are as many as 750,000 bunkers in Albania, a lot of them of the mushroom-shaped or pillbox variety. They were built during the regime of communist leader Enver Hoxha, who was in power from 1944 to 1985. Hoxha had the bunkers constructed in case of an invasion. Each bunker was built using concrete and could be lifted over an existing hole by crane or helicopter. The fortifications were set up as defensive firing locations, lookout points and even storage facilities for chemical weapons.
Albanian graduate students Gyler Mydyti and Elian Stefa saw lots of re-purposing potential in the bunkers. In 2008, they launched the "Concrete Mushrooms" project, proposing that the structures be transformed into hostels. They hoped that through re-purposing an "icon of a paranoid past," the fortifications could become "the symbol of a bright future." There have also been various other ideas for alternative uses for the bunkers, including turning them into pizza ovens, beach huts and restaurants – like the Kavajë-based hamburger joint pictured above.
3. Tea House on Bunker – Vreeswijk, Netherlands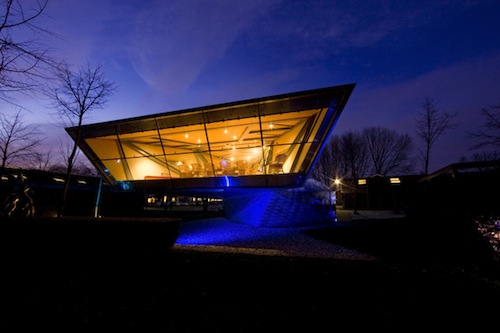 During the Eighty Years War, which was fought between 1568 and 1648, the Dutch found that flooding their land was a good way to stop Spanish troops from advancing. The technique made it treacherous for Spanish soldiers on foot, and only the flat-bottomed barges employed by the Dutch could navigate the shallow waters. Following on from this discovery, in 1629 construction began on a new defensive Dutch Waterline, which effectively turned the economic center of the Dutch Republic into an island. The waterline was updated shortly after the Battle of Waterloo in 1815 (when it became known as the New Dutch Water Line), and plans were made to alter it again after WWII – although these did not come into fruition.
These days, the New Dutch Water Line is appreciated for its historic significance and natural beauty rather than as a means of defense. In view of this, Netherlands design firm UN Studio built the Tea House on Bunker pictured above on top of two 1936 bunkers that were added to the waterline. Another great reuse of an old emergency fortification.
2. Missile Bunker "Mansion" – Topeka, USA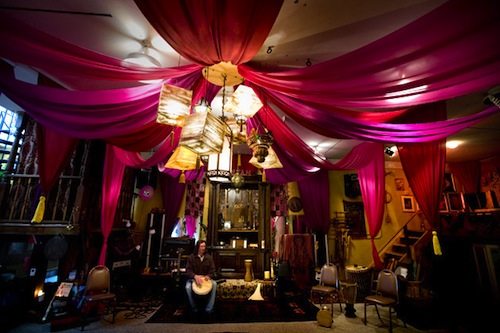 This repurposed 18,000-square-foot nuclear missile base was originally built in Topeka, Kansas during the Cold War. Opened in 1961, the underground bunker contained an Atlas-E intercontinental ballistic missile equipped with a four-megaton thermonuclear warhead. Yet by 1965, a mere four years on, the site was considered out of date and so was decommissioned. The reason? The length of time it took to open the facility's missile bay doors and thus have the weapon primed for action.
Topeka schoolteacher Ed Peden bought the base 18 years after it had been abandoned – and then spent another 10 years persuading his wife to live in the location. The interior is massive, but Peden and his wife only occupy a 6,500-foot section of the complex.
1. Bahnhof Data Center – Stockholm, Sweden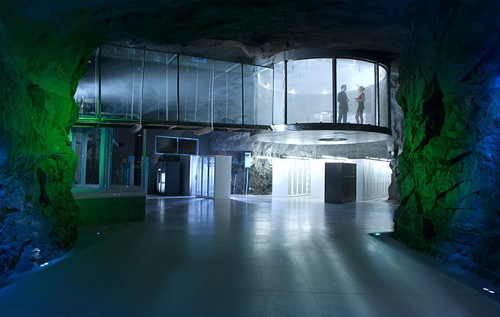 In the 1970s, the Swedish government built a defense center called Pionen in Stockholm's White Mountains. The site lies underneath 100 feet of granite and behind 16-inch-thick metal doors, and it was designed to survive in the face of a near-hit by a hydrogen bomb.
Once the threat of nuclear war had passed, the city of Stockholm rented the facility out for raves, art parties and even a wedding. But when Internet service provider Bahnhof acquired the complex, they transformed it into something incredible. Some magic was worked, and they opened it in 2008 to reveal surely the world's coolest data center, complete with waterfalls, simulated daylight and greenhouses.