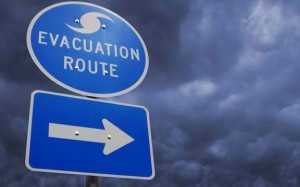 Students earning an emergency management degree undergo training in how to plan responses for crisis situations. Emergency preparedness is necessary for both man-made and natural causes. Some examples of conditions that students with an emergency management degree train for include floods, terrorist acts, hurricanes, earthquakes, tornadoes, and tsunamis.
Students earning an Emergency Management Degree will take basic courses in computer fundamentals, writing, sociology, and public speaking. Additionally, students will take courses in emergency planning and prevention, mitigation strategies, crisis decision-making, volunteer management, disaster and emergency response procedures, and operations center management. After earning their degree, graduates will likely work for an organization that follows each of the following phases of emergency management: mitigation, preparedness, response, and recovery. Performing mitigation reduces a disaster's probability of occurring, while preparedness involves ensuring that supplies and training are ready in the event that a disaster occurs. Response is the phase of management that puts the plan into action, and recovery requires the management to help restore the disaster area back to the state it had been in prior to the disaster.
The best candidates for an emergency management degree are people who can maintain their composure during a stressful work environment and who excel at communication and organization.
How To Find The Top Emergency Management Degree Programs
When looking at the ranking for the best emergency management degrees or the best online emergency management degree programs, potential students should take into consideration which aspects of emergency management that they wish to have as a focus. For example, some individuals in the field choose to focus on the health care aspects of disaster management. For these students, the Bachelor of Science in Health Administration with a concentration in Emergency Management from the University of Phoenix would be an excellent degree. Students who have a greater interest in homeland security might be interested in the Master of Public Administration with emphasis in Justice and Homeland Security from Upper Iowa University. Students who are interested in a more general course of study should consider programs such as Master of Science in Disaster Resilience Leadership Studies at Tulane University.
Although there are accredited associate's degree programs in emergency management available at many community colleges, candidates will need to earn at least a bachelor's degree in order to gain entry level positions. A master's degree will open even greater employment opportunities and will increase salary potential. Many positions will require a certification by the National Incident Management System in addition to a degree.
Careers and Salaries For Individuals Who Have Earned an Emergency Management Degree
Emergency management careers are available in many different settings. Graduates with a degree in emergency management can seek careers as emergency program managers, emergency program directors, emergency operations center managers, directors of security, technical training supervisors, hospital coordinators, emergency preparedness instructors, and risk management experts. Graduates find jobs in the public and private sector, as these types of positions are available in the military, law enforcement, all branches of the government, hospitals, educational facilities, and community relief organizations.
Due to the wide variety of job positions available, the emergency management salary varies. According to the Bureau of Labor Statistics, the lowest paid professionals earn approximately $28,000 while the top ten percent earned over $90,000. The states of California, Massachusetts and Rhode Island pay their emergency management specialists the highest salaries. However, salaries generally increase with amount of responsibility that an individual has in their job. Earning an emergency management degree provides a variety of employment opportunities to individuals who can handle the high stress work environment that the occupation requires.